Heninger Service Centre is conveniently located in the heart of Calgary just 2 blocks east of Macleod Trail at 407 36 Avenue SE. Deerfoot Trail to the east is a short drive away via Dartmouth Rd and Blackfoot Trail/17 Avenue SE. Chinook Centre and Glenmore Trail can be accessed via Macleod Trail to the south. To the west and north are 17 Avenue via Mission Road/4 Street SW and Calgary City Centre via Macleod Trail, respectively. The map below shows where the Heninger Toyota dealership is: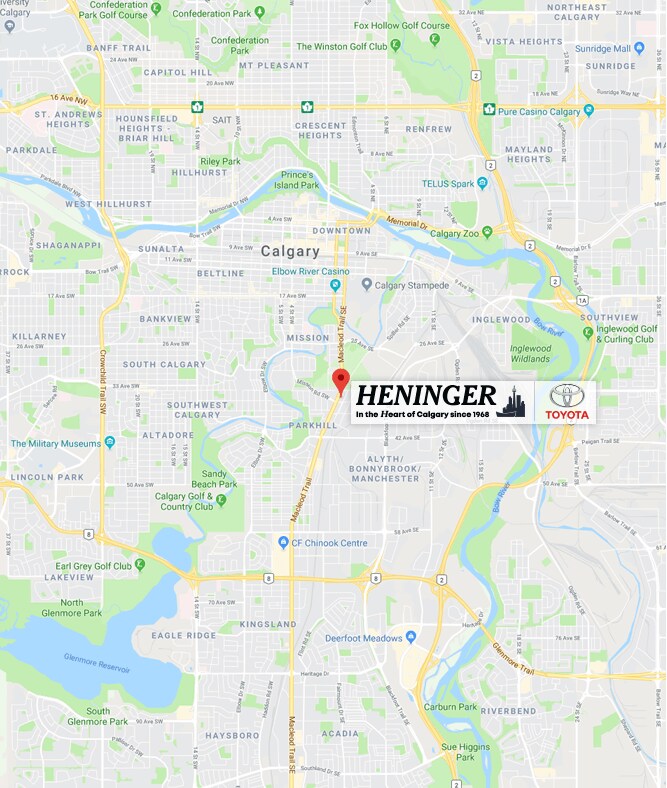 Calgary Transit
Heninger Toyota and Heninger Service Centre are both located right beside the Red Line CTrain LRT and are a short walk from the 39th Avenue CTrain Station.
Complimentary CTrain tickets may be acquired from the Heninger Toyota dealership.
Here is a map of the entire CTrain network for your reference:
Need to go somewhere without CTrain coverage? Buses #10, #30, and #90 have stops nearby to get you where you need to go.
Here is a map of the surrounding area for your reference.
Shuttle Service
Still need help finding alternative transportation? Speak to your service advisor about our complimentary shuttle service, subject to availability.
Our fleet of three shuttle buses operates anywhere within the city limits from 7:00am until 6:00pm Monday to Friday, and 8:00am to 4:00pm Saturday.
Shuttle service is offered on a first come, first serve basis. Due to weather and road conditions, traffic and unforeseen circumstances, we may not be able to accommodate all requests all the time. We encourage customers who have easy access to the C-Train to take advantage of our complimentary transit tickets. This allows us to assist customers who are in more remote areas of the city.
Rental cars & the Heninger Lounge
Ask your receptionist or service advisor about getting you into a discounted rental car when you require a vehicle and expect your repairs to take an extended amount of time to complete.
Or, if you want to stay close by while your car gets serviced, relax in our lounge while enjoying affordable breakfast and lunch specials at the Heninger Toyota Cafe located right inside the Service building!