Have a Car to Sell? We buy used Toyota vehicles and all other makes and models.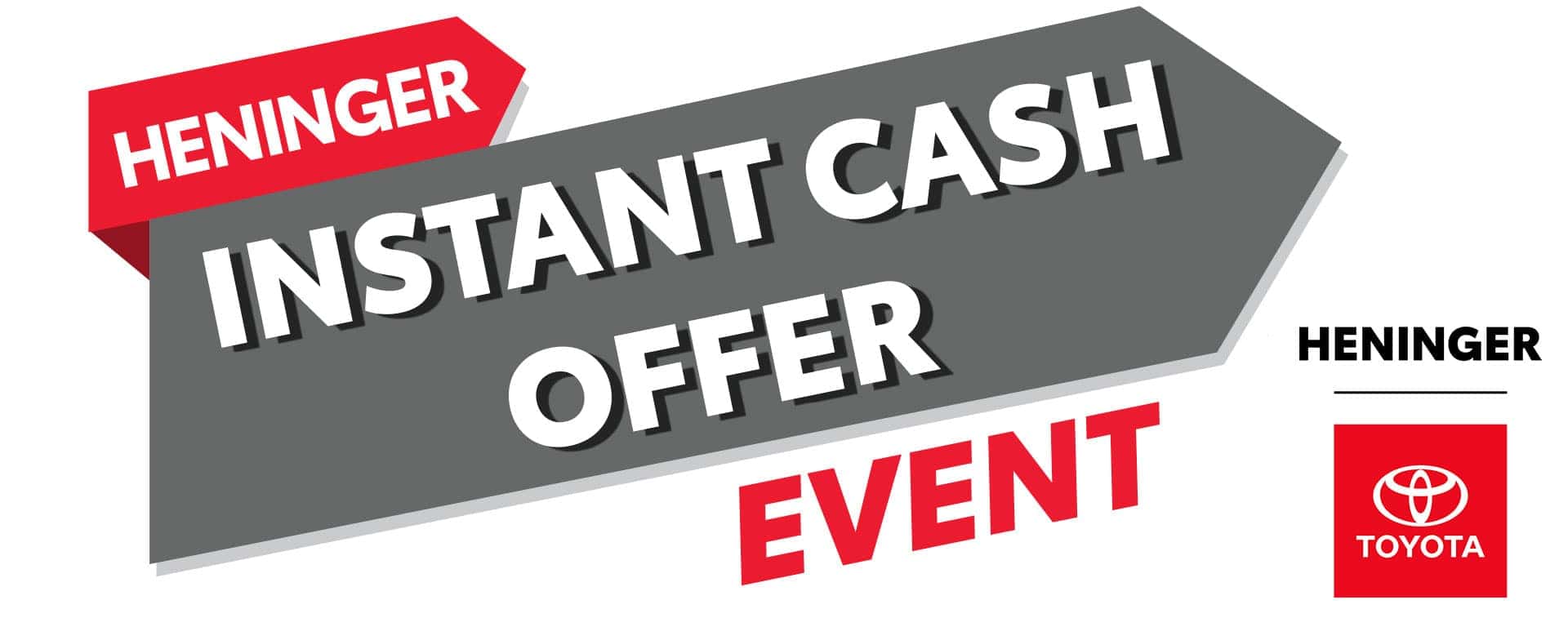 Living in Calgary, looking for some extra cash and want to sell your car used Toyota, SUV, van or Truck? At Heninger Toyota we buy used Toyota's PLUS all makes and models (Ford, Toyota, Nissan, Hyundai, Mitsubishi, Subaru, Mercedes, etc) regardless of the age or mileage of the vehicle. FREE appraisals are available to find out what your used Toyota or model is worth with absolutely no obligation to purchase.
Our Heninger Toyota team of automotive experts has been appraising vehicles for years, so you can be sure you'll be dealing with courteous professionals who understand the process. We use an evidence-based appraisal process, so you don't have to take our word for the value of your used Toyota car, suv, van or truck.
Questions we get asked.
Do I have to buy a new Toyota vehicle to sell my used Toyota or other make and model to Heninger Toyota?
No, absolutely not! We are interested in buying your used/preowned Toyota car, SUV, van or truck (or other model) whether you buy another vehicle or not. Our buying process is straightforward and transparent, so you see for yourself that you are being treated fairly. No strings attached, no games, so come in and let our Preowned Heninger Toyota experts make you an offer!
How does the used/preowned car appraisal process work?
Typically, you bring your used Toyota or other make and model vehicle into the Heninger Toyota dealership (Calgary, Alberta), and we'll make you an offer within 30 minutes. We'll do a thorough inspection of your used/preowned car, SUV, van or truck, including a brief road test. We also perform a market analysis to understand what comparable vehicles are selling for in Calgary and surrounding areas such as Okotoks, Airdrie, High River, Cochrane, Red Deer and even Edmonton, Alberta. We put all this information together and present it to you in a clear and straightforward way. You get a real offer for your used/preowned Toyota vehicle (or other make and model), with an explanation of what goes into it.
Is it better to sell my used Toyota (or other make and model) privately on Kijiji, Autotrader or Marketplace?
It depends on your vehicle, and what matters to you. Selling your used Toyota or other make or model privately in Calgary or surrounding areas may result in a higher sale price, but it's not without its costs. Cleaning and repairing any service issues with the vehicle will help you get more for the vehicle, but effective marketing and online listing is also essential for a successful sale. Private sellers must also contend with the challenges of meeting potential buyers, organizing viewings and test-drives safely, as well as ensuring that you receive payment in a secure way. When it's all done, the process could take a few months, with dozens of hours of work talking to many different people, and there's no guarantee it will be successful.
When you sell your used Toyota vehicle or other make and model at our Heninger Toyota Buying Centre, the process truly is a breeze. You only deal with respectful professionals, and you receive secure payment right away. Also, Heninger Toyota leverages automotive connections across Canada and the US, finding the best market for the resale of your vehicle. There's a good reason Calgarians have been selling their used Toyota (or other make and model) vehicle to us for over 50+ years.
What is Fair Market Value?
You've probably heard the old expression, "something is only worth what someone is willing to pay for it." A new Toyota vehicle as an example from the factory comes with a price tag, but figuring out the price of a used Toyota (or other make and model) vehicle is a bit more difficult. Fair Market Value is the price of a used vehicle, based on the sale price of similar vehicles in the same market. We use sophisticated market analysis tools to track the market for thousands of vehicles sold across the city of Calgary, Alberta and surrounding areas such as Airdrie, Okotoks, High River, Red Deer, Edmonton and even across Canada.
What's a GST credit?
If you're selling your used Toyota (or other make and model) and buying a new Toyota, then you don't want to miss out on your GST credit! When you sell your used Toyota (or other make and model) vehicle to a GST-registered business, you can save the tax on your next purchase. Depending on the value of your car, SUV, van or Truck, the credit can be worth thousands of dollars! Don't lose out on your credit, come see us at Heninger Toyota Buying Centre for used Toyota (and other make and model) vehicles.
Check out our Used Toyota Vehicles