Toyota Oil Change
We service your Toyota the way it was built.
Toyota takes great lengths to work with us to ensure the level of service and quality of work you receive is to the same standard and quality that they use to build their legendary vehicles.
Heninger Toyota's Free Oil Change Program
Exclusive Only to Heninger Toyota – Complimentary Toyota oil changes for the lifetime of your Toyota as long as all of your vehicle services are up to date. Please drop by and talk to one of our Service Experts as we would be more than happy to explain how the program works.
There really is no better place to take your Toyota or (any other make and model) for service than Heninger Toyota's Service Centre because you can count on us to take good care of you and your vehicle.
Why Heninger Toyota Service Centre?
Our Heninger Toyota Service Centre is one of the largest and one of the most state-of-the-art vehicle service centres in Canada. The Service Centre employs a special team of qualified Toyota experts who will help take good care of your vehicle and provide you with the highest return on your investment while providing increased safety for you and your family.
Easily one of the most important and regular services your car requires is an oil change. That's why we offer the best, top rated oil change in Calgary- among many other offerings!
Convenience
No appointment necessary oil change
Open Saturday 8 am – 4 pm
Fast turn-around time
How Much Does a Toyota Oil Change Cost in Calgary?

We check prices of local express lube oil change facilities and shops to ensure our prices are very competitive
What's Included in a Toyota Oil Change?
Our experienced service team will do more than change your oil:
Replace engine oil and filter – Heninger Toyota Service Centre uses Toyota Genuine Synthetic Oil and Filter.
Remove and inspect air filter element
Lubricate locks, latches and hinges
Inspect lights, horn and wipers for proper function
Inspect coolant, brake and washer fluid levels
Inspect tires and adjust pressure as required, including spare
We ensure you are up to date with your Toyota maintenance
The Difference Behind Toyota Genuine Motor Oil
Engineered for optimal performance
Absorbs heat
Prevents rust
Lubricates
Cleans
All the comforts of home!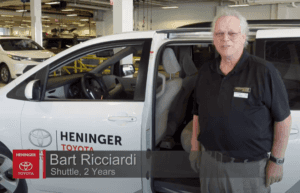 Whether you need transportation while your vehicle is being serviced, or get hungry and want to grab a bite while you wait, Heninger Toyota Service Centre has you covered with Free Shuttle Transportation (within city limits) and our Heninger Toyota Cafe.
Relax and enjoy Complimentary WIFI or watch TV in our cozy customer lounge.
Located in

South Calgary, AB

407 36 AVE SE • South Calgary, AB T2G 2P9