Payment Extension
In response to the spread of COVID-19 many financial institutions are providing support for payments on existing contracts. Below you will find more information from each institution. These notices come directly from the institution, and are re-published here for the convenience of customers of Heninger Toyota. We continue to keep this information up-to-date as financial institutions release updates.
Toyota Financial:
Toyota Financial Services understands the needs of our customers and we are here to help them get through these hard times.
At this time, Toyota Financial Services will be reviewing payment extensions on an individual basis, month by month.
Customers can contact TFS in 2 ways:
Option 1
Register and log-on to the new customer portal:
portal.toyotafinancial.ca
Register your vehicle
Click on my services on the top drop-down menu
Click General Request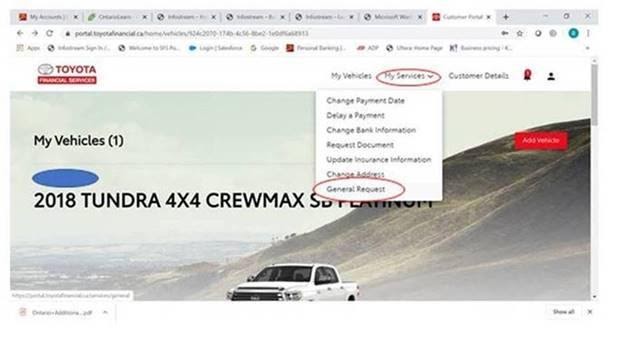 Enter a quick message and hit send. A live agent will contact you back to gather some information for the payment deferral.
Option 2
Contact Toyota Financial Service's customer service department:
1-800-661-3062
Note: TFS is experiencing very high call volume and actively assigning additional resources to assist with the high volume.
BMO Bank:
BMO does have Financial relief programs in place that customers can inquire about for any and all BMO products. Please be guided by below:
1. Customers are advised to contact their nearest BMO branch
2. Reminder: many BMO employees are working from home to accommodate the recommended 'social distancing'; thus there could be some minor delays in response times
3. We recommend calling the branch first, or setting up appointment through the BMO website (https://www.bmo.com/main/personal)
4. Each situation will be unique and dealt with on a case by case basis
NOTE: Due to the increase in work from home employees, we are having some server update issues; however these are being worked on daily and we expect this to be solved permanently in the very near short term.
RBC Bank:
As the COVID-19 outbreak continues to evolve, we want to reassure you that RBC is open and we are here to help support you. Our teams are in place to help you. We have received many calls and emails regarding what RBC is doing to help clients experiencing financial challenges as a result of COVID-19. Please be guided by the following:
RBC is offering up to the equivalent of 6 consecutive monthly deferred payments on consumer automotive finance loans, mortgages, credit cards, and personal lending loans. Please note that as call volumes are maxed, our Advice Center is making updates to RBC auto loans 48 hour prior to the client's next payment date.
Please call our Advice Center at 1-800-769-2511. For those customers with online banking, they can potentially choose the skip a payment option to buy some time until they can conveniently get in contact with the Advice Centre.
Scotia Bank:
For information about financial options from Scotiabank during COVID -19,  please use this link to get the assistance you need.
Below you will also find the page link for clients looking for payment relief:
https://www.scotiabank.com/ca/en/personal/scotia-support/latest-updates/auto-loan-spl.html
First Calgary:
First Calgary's Automotive Finance department has been receiving a large number of calls from customers asking for payment deferrals. Unfortunately we are unable to help them in our department directly for this given the circumstances and customers have to call the Member Care Center at 403-520-8000 for loan payment deferrals.
As a reminder First Calgary Financial / Connect First Credit Union is offering up to 3 months of loan payment deferral for anyone facing difficulty with this pandemic, as long as their loan is in good standing. (Leases and Balloon loans do not qualify)
COMMON QUESTION
Why we are only offering 3 months deferrals where other banks are advertising up to 6 months?
Here is the difference:
First Calgary is offering 3 months deferrals no questions asked.
TD Bank:
TD is offering deferral options for qualifying existing customers. Customers can call us at 1-866-694-4392, Monday-Friday, 7:30 a.m.-10:00 p.m. (ET) and Saturday, 9:00 a.m.- 8:00 (ET) to learn about a payment deferral option that meets their individual needs. As you may imagine, our wait times may be longer than normal. We apologize in advance for the wait, and thank customers in advance for their patience as we work hard to provide relief to customers ahead of them in the queue. Note: deferral options can only be processed through our call center.
National Bank:
More information about National Bank's personal loan support measure can be found at nbc.ca. (A section is dedicated for this matter.)
In addition to the frequently asked questions, you will be able to access the online form to request a deferral on your personal loan payment.