2021 TUNDRA | Heninger Toyota
2021 Toyota Tundra in Calgary, AB
THE 2021 TOYOTA TUNDRA
Fully loaded, 
loaded fully
At Toyota, we think getting a truck should mean getting it all. We don't think thatthe capacity to get the work done should come at the expense of the space youneed to raise a family. We know that an aggressive and commanding exterior doesn'thave to be sacrificed for a premium and sophisticated interior. And we're certain thatcutting-edge technology doesn't have to take a back seat to practical affordability.Over 80 years of innovation has gone into the 2021 Toyota Tundra - a half-ton ofmeticulously engineered heavy metal that proves a full-size pickup truck can have it all.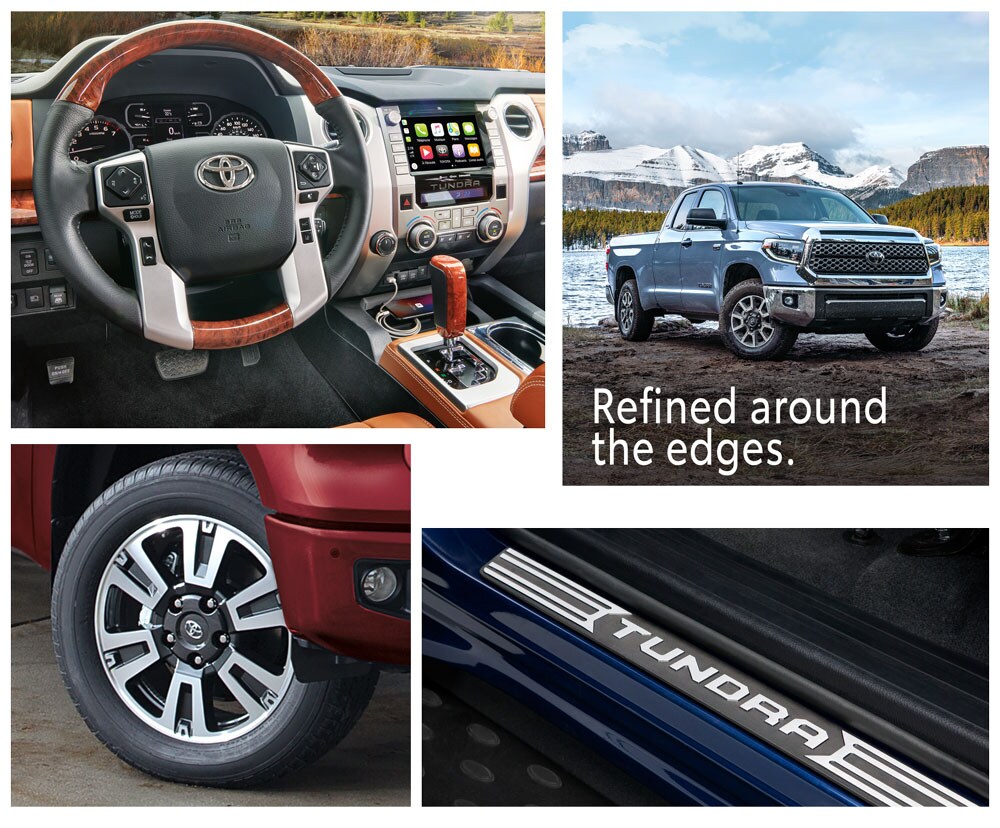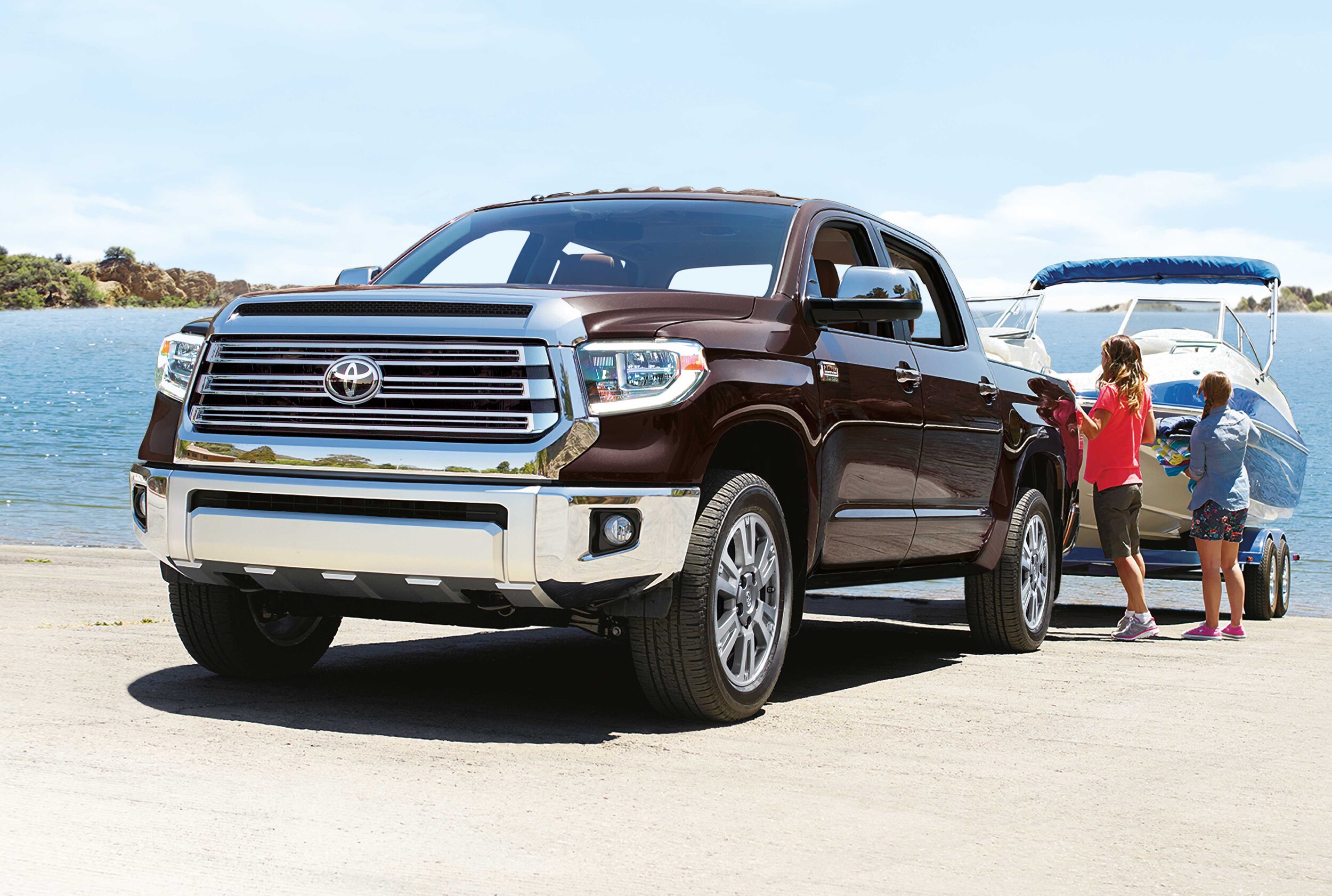 EXTERIOR DESIGN
Bold can be beautiful. 
Tundra's chiselled exterior was designed to get the job done and look good doing it. Available in 4x4 Double Cab and 4x4 CrewMax options, this full-sized pickup offers a variety unique packages to enhance your Tundra's appearance and capabilities. Make a commanding presence with the available Trail and 1794 Edition packages that boast premium accents and upscale styling. For those craving more excitement, the TRD packages offer performance upgrades and sporty design features that will not only get you noticed but also make quick work of any street, road, or dirt-covered path Canada has to offer. 
INTERIOR STYLING
Luxury and tech on a large scale.
As striking as the 2021 Tundra is on the outside, the true reward comes once you are seated inside. Tundra perfectly blends functionality and comfort, with a spacious cabin that gives you and your crew plenty of room to stretch out, and premium materials and textures to create a distinctively upscale feel. Best of all, Tundra comes equipped with a host of intuitive tech like Apple CarPlayTM1 and Android AutoTM1 compatibility, 4.2" TFT Multi-Information Display, Backup Camera, and available Blind Spot Monitor with Rear Cross-Traffic Alert, and Clearance and Backup Sensors. 
INGENIOUS CAPABILITY
Ready for anything and everything.
For life on the go, Tundra has the capability to handle it all - and more. The spacious cabin includes a number of handy storage options, including available Split Fold-Up Rear Seats, Deep Armrest Storage, and a Large Glove Box. Outside, the tough exterior bed makes loading, securing, and hauling your gear that much easier with available Tie-Down Cleats, available Deck Rail System, and Easy Lower and Lift Tailgate. 
TOWING & PAYLOAD
The proof is the power.
The powerful i-FORCE 5.7L V8 engine features Dual Independent Variable Valve Timing with intelligence to optimize engine breathing for maximum power and efficiency. The Acoustic Control Induction System automatically adjusts intake runner length for optimal torque and performance. And to help handle the remarkable torque, we equipped it with a 6-speed automatic transmission, two-piece drive shaft, and massive 10.5-in. ring gear. So whether you're towing, hauling, or just heading home, you can rest assured that Tundra carries a payload of capability. 
SAFETY
Toyota Safety Sense
Toyota believes that no matter the destination, everyone deserves to arrive safely. That's why Toyota Safety Sense (TSS) is standard on virtually all Toyota models. TSS is an advanced suite of active safety designed to support driver awareness, decision making, and vehicle operation over a wide range of speeds.
Crash protection starts with crash prevention. Packaged together in an integrated system, TSS helps address three key areas of accident protection: preventing or mitigating frontal collisions, keeping drivers within their lane, and enhancing road safety during night-time driving.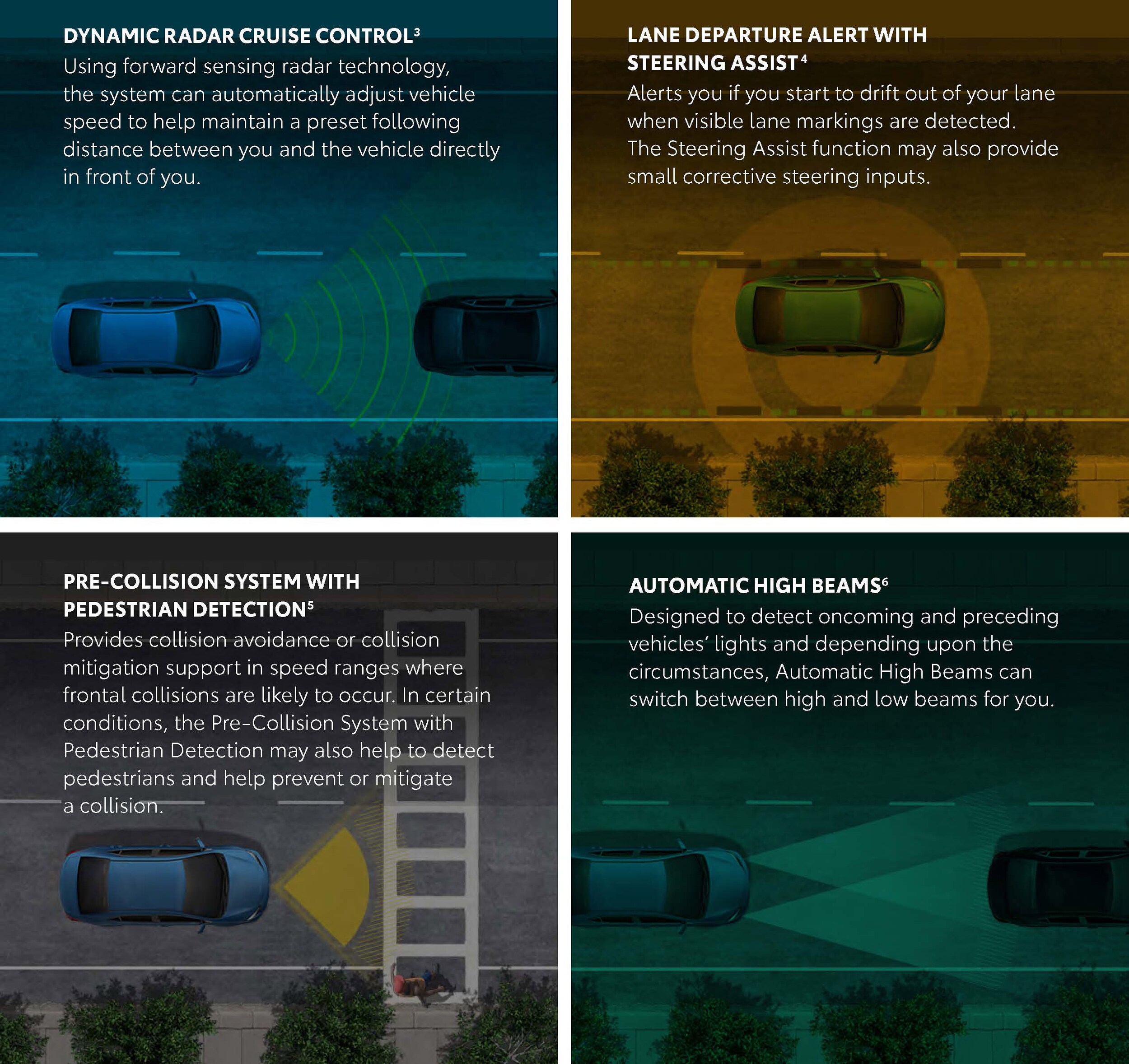 THE RIGHT FRAME. 
THE RIGHT FRAME OF MIND.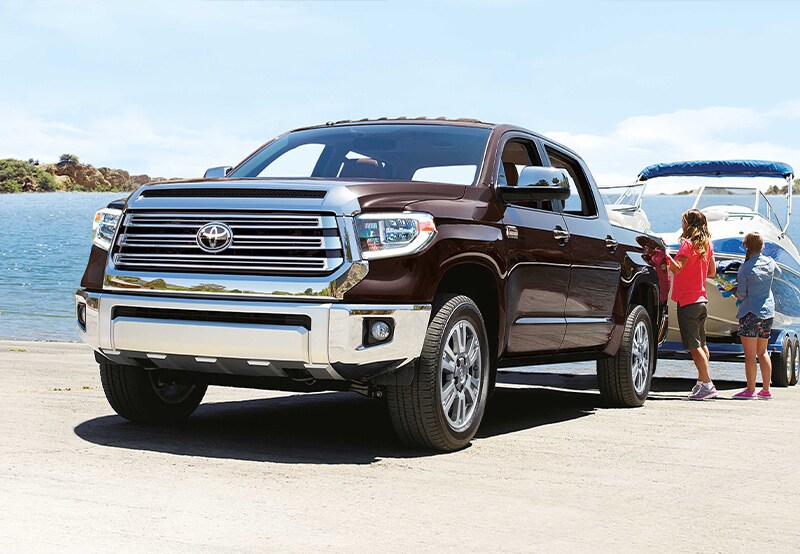 TOW / HAUL MODE
The available TOW/HAUL mode expands theuse of lower gear ranges, helping prevent the transmission from awkwardly shifting or "hunting" for the right gear. Particularly useful while towing or hauling a heavy load, the system enhancesacceleration, downhill engine braking, pulling power, and cruising comfort.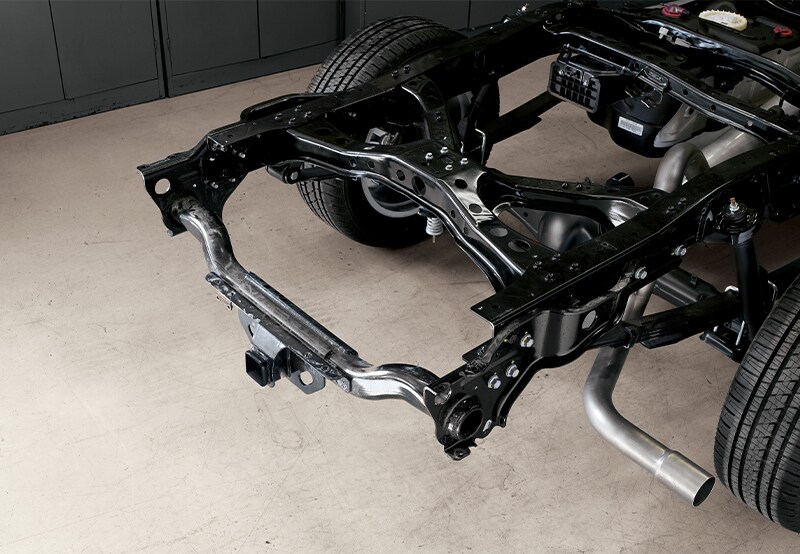 TRAPEZOIDAL FRAME SECTION
The trapezoidal rear section of Tundra's TripleTech™frame allows the rear leaf springs to be positioned toe-out, where the front is mounted farther out than the rear. The result: The trapezoidal rear frame section and the toe-out rear leaf springs combined deliver superior lateral stability when cornering and especially while towing heavy loads.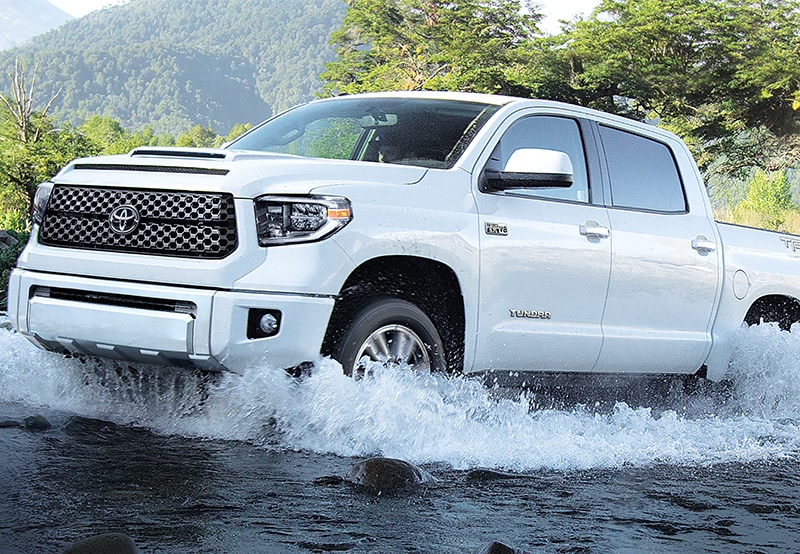 AUTOMATIC LIMITED-SLIP DIFFERENTIAL
Auto LSD uses the rear brakes to simulate the action of a mechanical limited-slip differential and is much easier to maintain. With Auto LSD, Tundra automatically applies brake pressure to the powered wheel with limited-to-no traction without restricting engine power. This helps increase resistance at the slipping wheel, which in turn helps feed power to the  wheel with grip.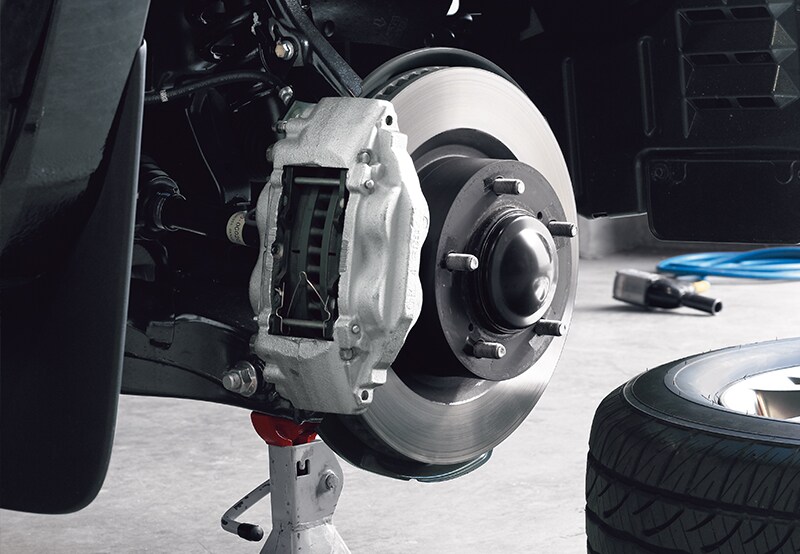 Tundra is equipped with enormous 13.9-in. front brake rotors and 4-piston calipers. When towing, Tundra's big rotors can help provide the confidence that when you apply the brakes, the Tundra - and your trailer - will come safely to a stop.